Lennox® Programmable Thermostats
Maximize the full power of your Lennox® heating and cooling system with a programmable or smart thermostat in Saint Petersburg, Florida.
Lennox climate control equipment is created to help your residence stay cozy while using less energy. In fact, they can help you conserve up to $180 each year on utilities, according to ENERGY STAR®.
Special Lennox Wi-Fi thermostats include innovative qualities, like holding your home's temperature near half a degree of your desired environment. These smart home gadgets sense when you're afar or at home, keeping your place properly heated or cooled.
With cloud connectivity, you can check, study and change your Lennox smart thermostat from all over with any web-enabled device.
Care for a state-of-the-art touchscreen or customary button controls? At Hales AC, we make energy savings simple with effortless thermostats. Call us at 727-398-5515, and our knowledgeable personnel will help you survey all the options for your house.
iComfort® Smart Thermostat Comparison Guide
Lennox® smart thermostats come appointed with a variety of features to make controlling your comfort simple. Click to download our current iComfort® smart thermostat comparison guide.
5 Benefits of Putting in a Smart Thermostat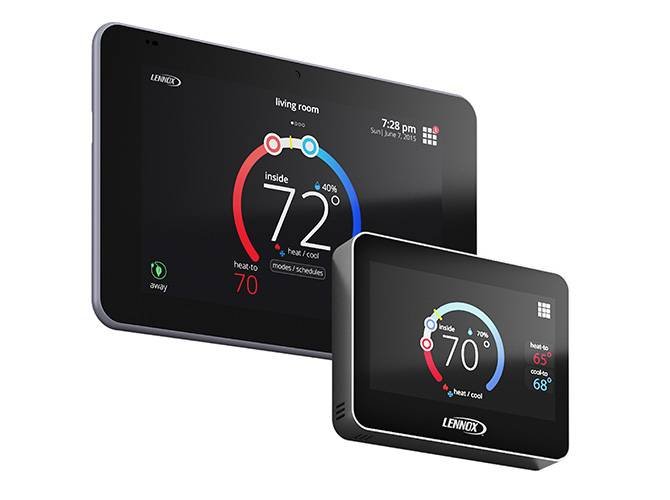 A smart thermostat yields many perks for your house, including:
1. Altering temperature control to your family's schedule, helping you save a larger amount on utility costs.
2. Using your phone or different web-enabled unit to manage your HVAC unit while away.
3. Keeping an eye on energy use with customized reports for your residence.
4. Employing a voice command for select units to power your heater or air conditioning.
5. Tracking local conditions and making adjustments with exclusive features like Allergen Defender and FEELS LIKE®, which help keep your residence more cozy.
Trim Your Energy Bill with a Lennox Thermostat
As for home comfort, occasionally the little stuff can make a huge difference. Call us at 727-398-5515 or contact us online to find out more. Our company can respond to your issues about HVAC technology, climate control, and which system can work best for your home.