Lennox® Air Conditioners
Enduring Lennox® air conditioners in Saint Petersburg, Florida, are among the most silent and most energy-efficient systems you can find.
Feel your air conditioner, and not hear it, with SilentComfort™ on available Lennox home comfort systems. This feature incorporates insulation, vibration protection and a uniquely shaped fan blade to reduce unit sound.
Precise Comfort® selections on some models can make your family even cozier. This option makes minute modifications to control your chosen air conditioning temperature while keeping electricity expenses down.
As another bonus, Precise Comfort could save you hundreds of dollars on cooling costs each year. Many ENERGY STAR® central air conditioners meet the requirements for federal energy tax credits and utility rebates. Call us at 727-398-5515 for additional help, or request a utility rebate appraisal.
To keep even more money in your pocket all year, couple your new system with a Lennox smart thermostat. With it, you have additional management over your family's climate while you're in it or out and about.
Call us at 727-398-5515 today to learn more about our models and home comfort installation services. Our heating and cooling pros will go over all the options with you and be there to help you pick the right system for your family.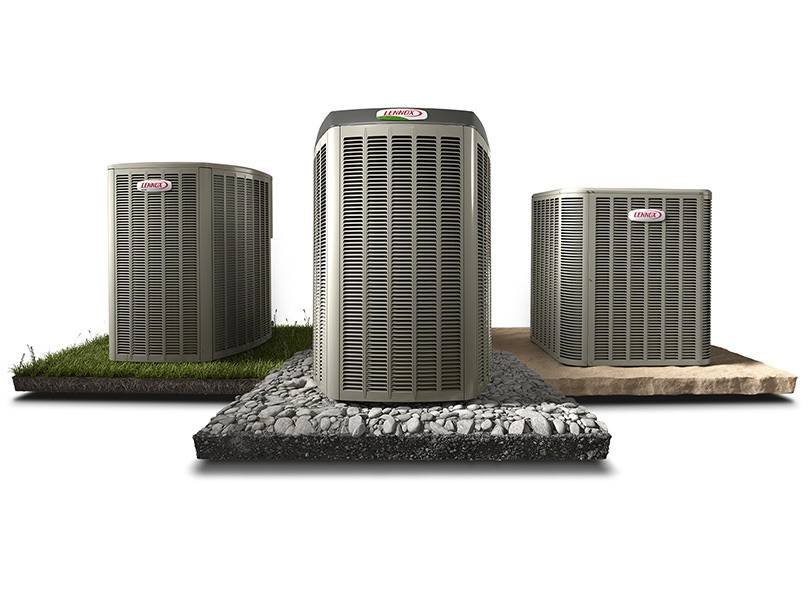 Lennox Air Conditioners Comparison Guide
Lennox® air conditioners are engineered to provide precise, energy-efficient cooling. So, no matter which air conditioner you choose, you'll enjoy perfect comfort for years to come. Click to download our current Lennox AC product comparison guide.
5 Advantages of a Modern Air Conditioner
AC replacement incorporates a variety of useful outcomes:
1. Decreased energy bills, especially when you select an energy-efficient or ENERGY STAR® machine.
2. Increased comfort, especially when you pick a model with the Precise Comfort® option that keeps your desired temperature.
3. Enhanced indoor air quality, particularly when matched with an air purification system.
4. Innovative climate control at home and around town with a Lennox® smart thermostat.
5. Less noisy operation than more mature models, especially when you choose a model with SilentComfort™ technology.
We'll Help You Discover the Correct Air Conditioner for Your Home
Phone us at 727-398-5515 or contact us online to find out just how comfortable (and quiet) your home could be with a Lennox® home comfort system. We'll help you find the right model for your home and wallet. We also offer expert air conditioning installation.